In the past two weeks, people have shown how much they still love and support Windows old and irrevocable trusted application "MS Paint." Last month, news surfaced that Microsoft is going to discontinue it in its next Autumn release of Windows 10, the Fall Creators Update.
The moment this news was out, a lot of people showed their massive support to this software on various platforms like social media, etc.
It did not take long for Microsoft to realize the outpouring love of MS paint fans. On 24th July 2017, Microsoft announced that this piece of software will not be obliterated but will get a new place in the Windows Store.
Next Windows 10 update will only have support for Paint 3D. However, users can download their old buddy, Microsoft Paint, from Windows Store free of cost.
Microsoft official announcement around MS Paint stay
Megan Saunders, who is general manager of Microsoft 3D for everyone initiative, wrote a blog on Microsoft official website about this stay of MS Paint. She wrote that MS Paint is going to get a new place in Windows app store irrespective of getting deprecated in the Autumn release of Windows 10.
In short, now you will not find your old friend in the default version of Windows 10. The whole blog was like this:
It is a sigh of relief for all fans out there. But why so much love for some traditional Windows application which has not grown so much over time.
Not to mention, there is plenty of power packed computer graphics applications which are available, and some of them are free of cost. Still, we love MS Paint and cannot afford to lose it. Let's see why?
A brief history of MS Paint
MS Paint came into existence in the year 1985 when Microsoft released their first version of Windows OS as Windows 1.0. At that time, MS Paint could only save files in the Windows bitmap format (.bmp extension).
It was only Windows 98 version when it got the ability to save files in JPEG, GIF and PNG formats. For many, MS Paint became the first digital canvas for painting images.
In those days, painting digitally on computer desktop was as fascinating as what we feel today when we experience painting in the air in the Augmented reality world.
You may like to read: How Augmented Reality (AR) is Going to Change Your Future
Why people still want to use MS Paint
In today's world, this paint app may look amateurish, but it was not this case, especially in the '80s or even 90's. It was a fascinating tool when it comes to digitally create an image on the desktop computer. There were not many similar apps which had similar functionalities.
Part of Windows core
Since the beginning, MS Paint was part of the core of the Windows operating system. It means you do not have to load any additional graphics editing software application.
It is more like any other Windows default apps such as notepad, snipping tool, etc. Default applications are always best optimized for power-packed performance of the operating system.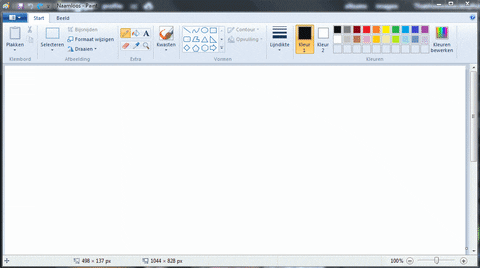 Easy of use
You may tell that MS Paint is a simple application, but I say Its simplicity lies in the ease of use of this application. The learning curve is almost close to zero. There are no fancy tools out there, yet you will be able to perform the common necessary image editing function with a breeze.
It does not take more than a few seconds to open this application. Who does not know shortcut command to open this application without even clicking anything?
Simple editing and fixing any image or graphic has never been so fun and easy elsewhere.
Is Paint 3D the new lone rider
Paint 3D came into existence in the year 2016 as part of Windows 10 Creators update. You can download Paint 3D and install sideways with MS Paint. Paint 3D is more of a 3D graphics making tool with some 2D image editing functionality.
Source: Microsoft
Microsoft has already announced that MS Paint will be deprecated in the next version of Windows 10. But the traditional app will find its new home in the Windows App Store. Also, moving forward, there will be no support and updates from Microsoft for this software.
If some of you are thinking that Paint 3D will become a default Windows application and will take the place of MS Paint, then you have mistaken. With the next release of Windows 10, you may have to head to the Windows app store for downloading both image editing applications.
The Autumn release of Windows 10 will have added features in Paint 3D. Some of its functions will inherit features from MS Paint such as straight line and curve line tool.
Key take away
Microsoft Paint has survived 32 years among some of other powerful graphics editing applications. I am pretty much sure that it is going to hang in there for some more time.
Paint 3D is a great app, but it does not bring in the simplicity and effectiveness of Microsoft Paint. This is the biggest reason why Microsoft has not discontinued Microsoft paint.
Let me know what you love most in Microsoft Paint in the comment section below.
Share this article with your friends and family on Facebook, Twitter, etc.
Was this article helpful?
Thanks for letting us know!